This year has been such an amazing adventure for me and its been filled with amazing life moments. My biggest accomplishment of this year is that I graduated and became a Registered Nurse. I'm so proud of my accomplishment and ability to persevere through the difficult times. There were times I never thought I would be able to complete my nursing adventure but that all came to an end in May when I was able to say I am a college graduate!!! BSN ALL THE WAY!!!! And then came August 22 when I was able to put the two most beautiful letters behind my name, RN.
This year also brought two amazing weddings my way. My two closes friends in the whole world got married this year (2 weeks apart!!! and I also had a birthday between the two!)
So this year has been about celebrating and enjoying lifes moments!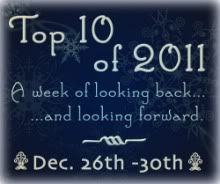 Aside from my personal accomplishments I have also made amazing book accomplishments. This year I really got into reading. I enjoyed it so much I started a blog! Which has been so fun!!!! All week you have been reading my Best of 2011 post (I know everyone loves the book boyfriend one) and now we have come to the final post! Thanks to
Jessica from
Confessions of a Bookaholic
, Lisa from
A Life Bound by Books
, Rachel from
Fikshun
, Jamie and Patricia from
Two Chicks on Books
for such an exciting week!
Dont' Forget everyone can join in the fun. Each day you add your top 10 list to the linky, you get an extra entry into the giveaway for a $50 amazon gift card! Just remember, each day will have a linky for THAT Top 10 topic and your list has to be for that top 10. Here is what the week will look like:
This is the last and final post of the Best of 2011!!!! Its all about next year. What books do you look forward to in 2012! It wants up to pick ten but that is just so hard!!! So I divided it up a bit. Because I could probably pick 50 just from series that I have already read and want more of and thats not really fair to the rest of the books out there. So I have two categories: Series and Stand Alone/ New Series.