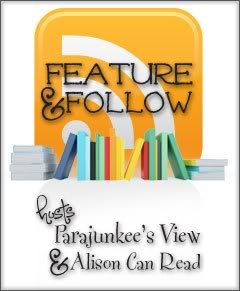 Follow Friday is a blog hop hosted by two great blogs, Alison of Alison Can Read and Rachel of Parajunkee. Each host will have their own feature blog, but anybody can post!
Leave your name on the post.

Create a post on your own blog that links back to the post (just grab the FF button) visit as many blogs as you can and tell them hello! In their comments.

Be sure to follow them and if someone follows you follow back!!!!
Question: What's the craziest thing you've ever done to get your hands on any particular book?
Well I actually haven't done anything crazy for a book (considering I'm crazy all around it's a shocker I know!) I sometimes feel the need to bite my books (esp. Obsidian! OH HOT IS THAT COVER!!!!! RAWR) and pet it and love it! Oh I'm getting carried away (can you blame me!!)
I MEAN SERIOUSLY!!!!! HOT DAEMON!
I tend to lose a lot of sleep over book; the latest I ever went to bed was 4am while reading Breaking Dawn because I didn't want to read about Jacobs POV! And of course I have been having late nights with Mr. Grey from the Fifty Shadesseries. He keeps me up very late!
Anyway, thinking about this some more, I can say doing this blog is a crazy thing I have done! I didn't think it was when I started it, but it has made me crazy!!!!! I'm so excited to be lost in the literary world! Its one of the best hobbies I have picked up lately!!!!
I also dragged my boyfriend to a book event (yea this one HERE) on our 7-year anniversary! Not too crazy but I own him (BIG TIME) Hehe I have the best man ever!!!!
Please, tell me your crazy stories (book related or not!)