Oh Cassie! How wonderful are your books! Your only crime is making us wait for them!!!! Clockwork Prince picks up where we left them in Clockwork Angel.
From the book flap
In the magical underworld of Victorian London, Tessa Gray has at last found safety with the Shadowhunters. But that safety proves fleeting when rogue forces in the Clave plot to see her protector, Charlotte, replaced as head of the Institute. If Charlotte loses her position, Tessa will be out on the street and easy prey for the mysterious Magister, who wants to use Tessa's powers for his own dark ends.
With the help of the handsome, self-destructive Will and the fiercely devoted Jem, Tessa discovers that the Magister's war on the Shadowhunters is deeply personal. He blames them for a long-ago tragedy that shattered his life. To unravel the secrets of the past, the trio journeys from mist-shrouded Yorkshire to a manor house that holds untold horrors, from the slums of London to an enchanted ballroom where Tessa discovers that the truth of her parentage is more sinister than she had imagined. When they encounter a clockwork demon bearing a warning for Will, they realize that the Magister himself knows their every move and that one of their own has betrayed them.
Tessa finds her heart drawn more and more to Jem, though her longing for Will, despite his dark moods, continues to unsettle her. But something is changing in Will; the wall he has built around himself is crumbling. Could finding the Magister free Will from his secrets and give Tessa the answers about who she is and what she was born to do?
As their dangerous search for the Magister and the truth leads the friends into peril, Tessa learns that when love and lies are mixed, they can corrupt even the purest heart.
This book continues with the hunt for the Magister. After being betrayed by her brother, Nate, Tessa found comfort from the Shadowhunters at the Institute. And the institute is glad to have her there. They need her help if they are going to locate the Magister. But Tessa's life could soon make a drastic change when Charlotte's ways of running the Institute are questions by the Clave.
Lead by the tenacious Mr. Lightwood, Charlotte and the rest of the Shadowhunters are given a deadline to locate the Magister. Lightwood doesn't believe that she can run the Institute and wants her gone. He believes that a women cant do a mans job, but does he have more sinister reasons than he is letting on?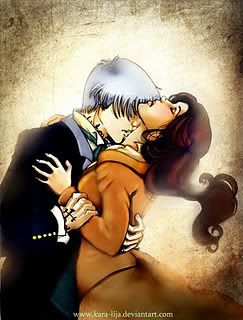 But the task is much more complicated than it first appears. The Magister's motives and vicious reach go very deep. The Magister's plans are well laid out and he anticipates the Shadowhunters and Clave's every move. The Magister will not make things easy for the Shadowhunters.
Clockwork Prince is so complex and detailed with numerous interweaving plots and characters. It emits strong emotions and you can't help but feel what everyone feels. All the heart ache, the desperation and of course the passion.
You think you know what path the characters are going to take when you start this book, but you end of going WTH!!!!!! I as well as many others, am still trying to piece back my heart from what happened in this books (and I read this at the beg of December, just a bit late with the review.)
This book is just so amazing it's hard to put it into words!!!! I haven't felt such heart ache in a paranormal book ever! The only time my heart broke this much was when I read Before I Fall and Marley and Me! It's that heartbreaking!!!!
This is a wonderful and different follow-up in this series, one that is just amazing! The development and journey of the characters is at times unexpected and heart breaking!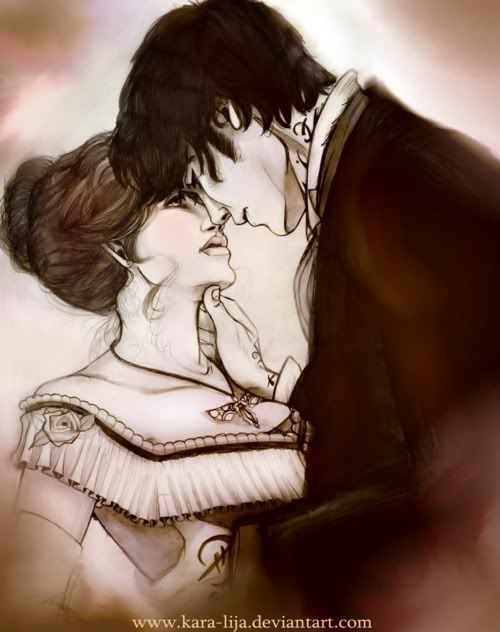 I could sit here all day and gush about how amazing Jem is and how his desires and passion for Tessa is sooooooo STEAMY at times I though I was in a sauna! It is so clear why Tessa is drawn to Jem. Then there is Will, our blue eyed, closed off complicated dream boy! He is struggling with so many inner demons (and outer ones as well) at such a young age that you keep hoping and praying that by the end he can let got of it all and just tell Tessa how he feels! His longing and desire for her is so intense at times its hard to get through! As always Clare gives us just a taste of what the characters are feeling and the tension between them. With things like what starts on p. 201 and as well as the Balcony Scene, you will be left in a pool of jelly! (SERIOUSLY! Like OMG! My inner sixteen year old comes out!)
One thing I really love about this book is the love triangle. Most love triangles written in books are not really triangles but third wheels (i.e. Shay in Nightshade, Jacob in Twilight, Simon in Mortal Instruments). You always tend to feel a strong connection to one guy rather than the other. And it's always obvious who the heroin should be with (no matter what team you are on). But in this one I still don't know! This love triangle is written so perfectly, no matter what guy you think should be with Tessa, if difficult to choose. Each side's argument is SO STRONG. You yearn for Jem to feel the love of a woman he so desperately deserves. Having gone through so much in such a short time, you root for him. Yet then there is Will, who you know has so much passion and desire for Tessa that he is hiding. You just want to smash down his wall! Reading this you know someone is going to get their heart broken, if it's not everyone.
This book is less action and more about the relationships that everyone has. I really did enjoy this side of Clare's writing and have to say she sure did write a doozie!!!! It is so think with rich details and a wonderful chocolate frosting that you can't help but gobble this up! The story of Tessa, Will and Jem is only a fraction of the journey. There are 502 pages of love, choices and life about everyone that is wrapped up in this crazy world Clare has created.
Clare somehow found the magic that puts everyone under her spell! This is a page turning, book-smashing, cry out loud tantrum throwing hell of a ride! I screamed, I cried, I got my heart shatters and my insides all stirred! I'm pissed I read it so quickly because I have to wait so long for the final installment!
"He's very pretty. For a human."
"He's very broken," said Magnus. "Like a lovely vase that someone has smashed. Only luck and skill can put it back together the way it was before."
Don't forget to enter my Giveaway
PS: will someone come hold me!