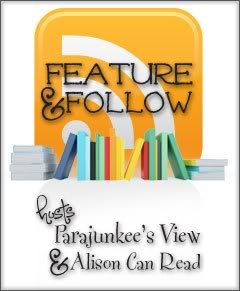 Follow Friday is a blog hop hosted by two great blogs, Alison of
Alison Can Read
and Rachel of
Parajunkee
. Each host will have their own feature blog, but anybody can post!
Leave your name on the post.

Create a post on your own blog that links back to the post (just grab the FF button) visit as many blogs as you can and tell them hello! In their comments.

Be sure to follow them and if someone follows you follow back!!!
Question:
Activity!!! Take a picture or describe where you love to read the most...
Ooooo this is so exciting!!! Although its nighttime and I cant really go to my fave place to read which is on a warm beach!!! But I will survive!! I have a few places I like to read, I tend to do most in bed but I'm not posting that all over the net! Hehehe ;) ;) so I go with my place I spend a lot of my time! It's Tater's Corner!!!!
Yes that is where I spent most of my time! I love that corner of my couch! Hehe it's just to amazing for words! I usually have to fight my dog for the spot also!
So show me where you like to read!!!! I would love to know!!!!