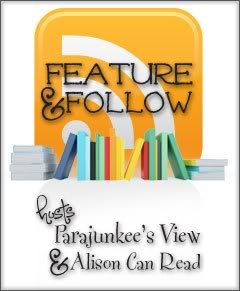 Follow Friday is a blog hop hosted by two great blogs, Alison of
Alison Can Read
and Rachel of
Parajunkee
. Each host will have their own feature blog, but anybody can post!
Leave your name on the post.

Create a post on your own blog that links back to the post (just grab the FF button) visit as many blogs as you can and tell them hello! In their comments.

Be sure to follow them and if someone follows you follow back!!!
Have you ever looked at book's cover and thought, This is going to horrible? But, was instead pleasantly surprised? Show us the cover and tell us about the book.
Damn well you know I don't always notice bad covers for book. Most of the time it's ooo that's a pretty cover, damn that book sucked!!! I haven't really though of the later. So I'll list some covers that weren't to great but the books were AMAZING!
Its not that it's a bad cover, but it's just average! Its sensual but could be more amazing! The book is fabulous though!!! And I see improvement with the covers to come!!! Esp Chain Reaction!!! Ugh I started this series because of that cover!!!
This cover only takes on meaning after you read the book. Because this has become one of my favorite covers!! I love that damn tie!! But if you knew nothing about the book, the cover is kind of underwhelming.
Now I love Abbi! She is one of the best authors I have read in a long time. And I first kind of avoided this book because the cover reminded me of the Lauren Conrad books and the sucker just seems too girly for me. But I'm so glad I ignored the cover and read the book because its SOOOOOO amazing!!! And the new cover for book 2 is just damn sexy!!!!
Like I said, they are bad covers, but just underwhelming!! But damn some really great books!!! Esp fifty!!! Oh baby!!!
So show me some bad covers on really great books!
What do you think of my choices?