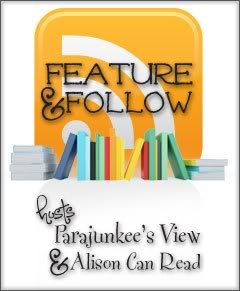 Follow Friday is a blog hop hosted by two great blogs, Alison of
Alison Can Read
and Rachel of
Parajunkee
. Each host will have their own feature blog, but anybody can post!
Leave your name on the post.

Create a post on your own blog that links back to the post (just grab the FF button) visit as many blogs as you can and tell them hello! In their comments.

Be sure to follow them and if someone follows you follow back!!!
What is the best book you've read in the last month? What is the worst book you've read in the last month?
So in the last month is (I'm including all of February and up till now cuz February is a shortie of a month) I have read:
And I'm currently reading:
MAN I didn't even realize how many I have read. And its really hard to choose from this amazing group of books!!!!
So from that list I have to say:
Best book by far is HUNGER GAMES
(both HG and CF)
!!! Like it's a surprise! It's really everyone's favorite book! So aside from Hunger Games, my favorite read has been............... Thoughtless!!! Sorry I was sitting here looking at my list for like 10 minutes trying to pick a book because I really enjoyed them all for different reasons!!! But I love Thoughtless because of all the angst and sexy steamy parts! Ahhh some parts drove me crazy some make me cream my pants and others just made me scream! But that's what makes it amazing!!!!
I don't really hate books but out of these books there is one I liked least was When The Sea is Rising Red. I just couldn't get over the language and that was holding me back. It's a great story and wonderful plot and read if you can get past the language.
So that's my list!! It's really hard because I love them all!!! And reading taking shots right now is just AHHHH just what I need!!!! So I have to say a thank you to Toni!!! My newest most awesome friend who is pushing me to read her book!! And I love it!!! Except right now when I'm writing this, our hockey teams are playing each other so we hate each other for just a few hours!! GO SHARKS!
Do you think I picked the right books? What would you pick from my list as your best and worst? What are your best and worst from the last 30 days?