Here we are again folks, with week two of the Review Copy Cleanup challenge!!! This week it's Cuddle Up With a Book.
The goal of the Cuddle Up With a Book Challenge is to share your

favorite

place to read. We love pictures - but if that's not possible, a description will do too (: Tell us why you love it! And maybe you have some reading habits you would love to share. Do you listen to music while reading? Or can you only read during the night? We're very curious to see our fellow bookworms' reading spots and read about their customs!
Well most of you have seen Tater's corner because it was a recent post on a FF a few weeks ago. But I always LOVE showing more photos, you know my post are always loaded with photos, I cant help it I'm a visual person!
But I've added a little extra photo for all of my lovely readers. I wasn't going to show this one but what the hell!!!
So my favorite places to read are in my little corner! Yes that is the place with all the comfy cushions. It's a nice place to read and when I read in the daylight, that is where it happens.
But this 90% of my reading occurs: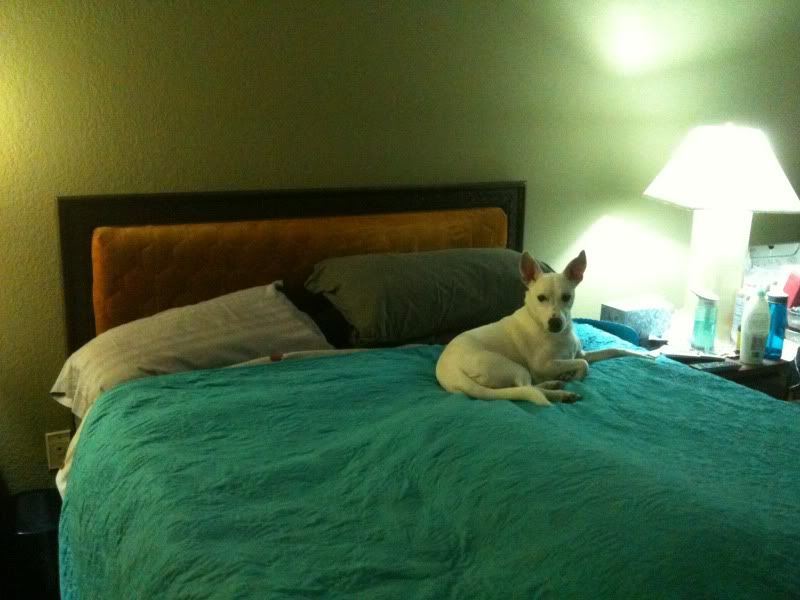 Yes my bed!!! And of course Emmett!!! He can't help but want to be a part of this blog!! There you have it folks, that same damn ugly green wall (I think I need to paint some walls soon! Damn!) And my nice OLD ass headboard that I LOVE cuz its cushioned!!! See a theme here?? I love cushions!!! But yea! That is where I resisted the urge to throw Pandemonium across the room, where I tossed and turned dreaming about Fifty and where I balled my eyes out while reading Harry (and now reading Hunger Games). And trust me I have a whole set up to make my reading comfortable. I have a book pillow, a neck pillow, some water, my nook and kindle cords, a USB wall plug in and a plethora of bookmarks.
But as it seems that my neck of the woods will not be having a winter, I might have to start moving my reading outside!! Seriously!! It's another 73 degree weather day here!!!
And don't forget, if you want to sign up for the Review Copy Cleanup there is still a few days left!!! See my original post for more information!!!