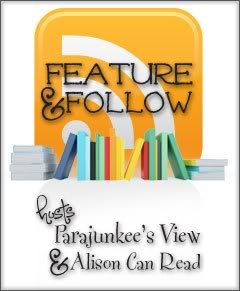 Follow Friday is a blog hop hosted by two great blogs, Alison of
Alison Can Read
and Rachel of
Parajunkee
. Each host will have their own feature blog, but anybody can post!
Leave your name on the post.

Create a post on your own blog that links back to the post (just grab the FF button) visit as many blogs as you can and tell them hello! In their comments.

Be sure to follow them and if someone follows you follow back!!!
What is one book that you would be nervous to see a movie adaptation of because you think the movie could never live up to the book?
There are so many books like that. I mean its just so hard to take something that everyone has their own view on. but there are a few that truly terrify me!!! It's almost to the point where you cant really expect anything from a book adaptation. They really are going to be two completely different things. I mean Hunger games was one of the best adaptations I have ever seen and of course, Twilight is kinda the worse. I mean just ahhhhhhhhh it makes me just so nervous I don't like to think about it!! When I started reading, I wanted every book made into a movie, but now I'm like NOOOOO I want my books to be kept in my head and left alone!!!!
The number one being Fifty Shades of Grey series. I'm so pissed that is being made into a movie. I really don't see how they are going to make it work without it being in an adult store. Its not the character or what not that upset me. I just think…no wait I know this book/movie will not be what I want!!!! Flat out!
And then the other one I'm scared of is The Mortal Instruments. I'm super excited and also nervous! But I think I'm more excited to see this world be brought to life. But I don't agree with JCB as Jace. He just doesn't do it for me.
And lastly, I REALLY do not want Beautiful Disaster or Obsidian made into a movie! I mean it would be really great because I love Jamie and Jennifer and their books are just amazing! But these books are just so near and dear to my heart! I know that if it's anything less than perfect or if Travis or Daemon are wrong, I'm sure my life would be over!!! Hahaha ok well not really but you get my point!
What book makes you worried??