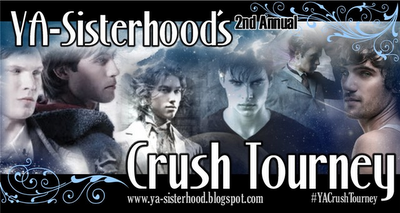 So if anyone has been following me on Twitter they know that I have been going crazy with tweets for the YA Sisterhood 2nd Annual YA Crush Tournament!!! I'm so happy to be a part of this experience and have already had so much fun and met some amazing new people!!!
This Tater is your advocate for the one and only KAIDAN ROWE from the Sweet Evil books by Wendy Higgins!!! I couldn't have gotten a better crush to support! And now I need your help!
So here is the deal! Kaidan is in a tough spot, not everyone know who he is!! I know, a total shocker!! We need to get the message out!!!
Now I am soooooo lucky to have Wendy on board! She is Kaidan's biggest supporter and is totally amazing!!! Together we will make this the best experience for everyone!
Be sure to mark your calendars for JULY 13th at MIDNIGHT (EST)!!! For 24 hrs we need to BEAT FINNICK!!! That is our first round against Finnick!!! Seriously we are up against Finnick!!! That is one tough guy to beat! Make sure you go to the YA Sisterhood site and VOTE! I will post a link to the page on the day of the vote, frequent it often!!!
So for right now here is what I would love from everyone:
Change your twitter, FB, GR or any other AVIE you have to the Team Kaidan button (and seriously, just look at Kai!! He is so hot!!!) Post it on your blog (if you have it) tumbler or just share it anywhere!!!

Use the header for FB and anything else!!!

Tweet, tweet, tweet and FB your love for Kaidan and rally the troops! Use the hashtags #TeamKaidan #YACrushTourney #BeatFinnick

Official TeamKaidan page is on my blog! And will always be updated! Feel free to use any part of it for a post on your own blog or make one of your own!!! We will love you forever!

And make sure you tell everyone you know to vote for Kaidan!!! Tell your mom, your dad, sister, brother, dog, cat, bird anything that can click a mouse!!!

Also, the post I have to write for Kaidan and would love some help! I could use some help or if there is anything you want to put in there for Kaidan I'm going to write this post when I'm done rereading Sweet Evil, sometime later this week and I have to submit the write up 2 days before our set date, which is July 13. So I would like to have all the stuff gathered by this weekend. If you want to include anything on his Personality, Talents, Special Attributes/Best Qualities, or anything else about him that would be great!

Lastly if anyone would like to be my partner in crime please let me know! All you will be doing is helping me with the post and getting the word out! Every one can do it, but it would be nice if someone wanted to be my co-advocate! I have put up a google doc for everyone to fill out if they want to participate!
Please email me with anything else you think of and what not!!!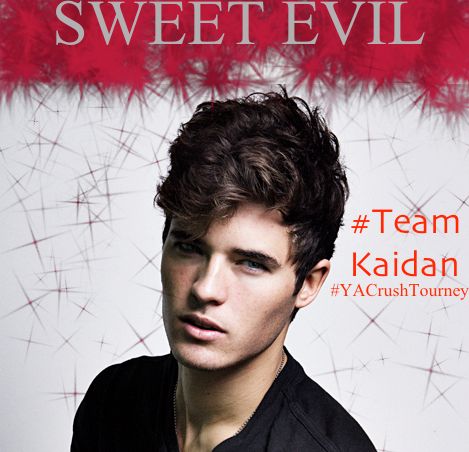 Right click and save the header

Grab the button
Now for the good stuff!!!
Wendy and I have decided to host a giveaway for Kaidan!!!!
Here is what is up for grabs:
15 singed bookmarks

1 signed copy of Sweet Evil

1 ARC of Sweet Evil
Rules:
Open international

Ends July 14th, 2012

Must be 13 years or older

Must fill out form below

17 winners will be chosen! 15 singed books marks, 1 signed copy of Sweet Evil, 1 ARC of Sweet Evil

Winners must have voted for Kaidan in Round 1 (This will be hard to verify but please be honest, we really want Kaidan to win)
Totally fantastic right?!?! I think so!!! And the best news, its INTERNATIONAL!!! Kaidan's love knows no bounds! Again, we really want Kaidan to do well in this
tournament
and this is all in good fun, we are requiring the winners to actually VOTE for Kaidan on July 13, I know this will be hard to verify, but please be honest with us when we ask.
If Kaidan wins the first round this is what we get from Wendy:
She will write a scene from Kaidan's POV!! Which will be posted here and on her blog! I know you all want to read about that!! I sure do!!! Seriously! It's so fantastical!!
Remember everyone this is all in good fun!! Lets tell the world about Kaidan!! Spread his bad influence all over!
All right everyone! Keep in touch and remember, TEAM KAIDAN FTW!!!!!
And a special treat from Kaidan!