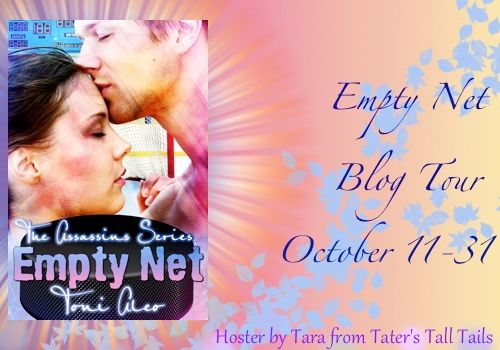 So I have decided to get into the blog tour business. I'm starting out slow to see how it goes and to see if I can handle everything! And if enough people are interested I'll see about doing some more!!!
So I am partnering with my lovely author best buddy Toni Aleo for a blog tour for October!!! Exciting right? I think so!! So here is what is going to happen:
I have created a Google doc for everyone to sign up on.
Please if you are interested in participating in her Empty Net tour, sign up!!!
The schedule is below and pick a day and post you would like to do!
Also if you can think of something else you would like to do, let me know!!
Thanks everyone and lets make this a success!!!
Definition of an Empty Net: When a team pulls the goalie for an extra attacker, desperately seeking a goal.
Audrey Parker was in a horrible place.
She hated her job, her sister was getting married and moving out, but worst of all, she was in love with a total jerk. No matter what she did, every guy she met hurt her. All she wanted was her happily ever after. Her Prince Charming. Her Lucas Brooks! She didn't know how to change her life but she knew she needed too.
Feeling like she was about to hit rock bottom, Audrey wakes up next to Tate Odder.
Tate Odder had lost everything.
After being brought up from the Assassins' farm team, the Florida Rays to the Nashville Assassins, Tate hopes he'll forget everything he has lost. He doesn't. Each day gets harder to live in a place he doesn't know. Even being the first rookie goalie to shut out an opposing team three times during the Lord Stanly Cup Finals, he still felt empty. With the loss of his parents and sister still heavy on his heart, Tate isn't sure how to live like everything is okay.
But when he wakes up beside Audrey Parker, things start to change. She turns his life upside down with her kooky sense of humor and her bright clothing. She is intelligent and beautiful, and for once, he doesn't feel empty.
Will Audrey be the person to fill the holes in Tate's heart, making him whole again?
Or will another player ruin everything, leaving him feeling forever like an empty net?
Please fill out
THIS FOURM
and also let others know if they are interested!! If we have more people that want to be on the tour than stops I may add some!! (This book has mature content, it is advisable that you are over 18 to be on this tour)
ALSO something to think about when you sign up, it would be most helpful if you choose interview or guest post to have an idea of what you would like and also to get your questions ready. If chosen for those post, I will be asking for that info in the first email.
October 11
Review & Favorite Chapter
October 12
Excerpt & Author Spotlight
October 15
Author Interview & Spotlight
October 16
Review & Favorite Chapter
October 17
Review & Author spotlight
Review & Author Dream Cast
October 18
Blogger Playlist & Expert
October 19
Excerpt & Author Spotlight
Review & Blogger Dream Cast
October 22
October 23
Review & Favorite Chapter
October 24
Excerpt & Author Spotlight
October 25
Review & Author interview
October 26
Review & Author Spotlight
Author Playlist & Author Spotlight
October 29
Review & Favorite Chapter
Excerpt & Author Spotlight
Review & Blogger Dream Cast
October 30
Review & Author Dream Cast
October 31
Excerpt & Blogger Dream Cast