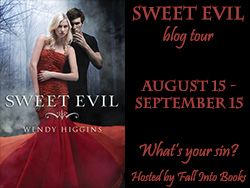 Sooooooo welcome to my stop on the Sweet Evil blog tour. Today's post is an incredibly amazing one!!! Our every so sexy drummer, Kaidan Rowe, approached me recently asking if I would like to sit down for an interview!!! I jumped on the chance to just be in the same state as that sexy man so interview him was like a dream!! And I told him that and he was all No luv, I want to interview you!!! So after I passed out I screamed YES YES YES!!!!!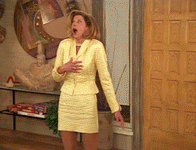 Me, when I heard the news!
Now I am going to try and be as coherent as possible and try not to get all puddle of goo on you (which probably won't work out so well, considering I'm already starting to goo!)
So without further a due here is our amazing interview!
Kaidan: Tara, how are you today, luv?
Tara: *flushes from head to toe* Well hello Kaidan, luv, I have to say, you have quite a stimulating presence!! I am a bit sleepy, haven't gotten my coffee yet, but you sure have made my day better! ;)
Kaidan: *grins* So, you're a book blogger? I'm a bit of an idiot about these things. Is there a certain type of book you gravitate toward?
Tara: I wouldn't say you are an idiot, you just haven't gotten to know this wonderful world of book blogging yet. And I am more than happy to show you around! My blog I guess is classified as a young adult book blog. However, I like to bend the rules and do my own thing. It really has all kinds of books on there, any book that I love gets attention. That can mean a book about a sinful group of characters ;) or it can mean the latest hockey romance book. I love any book or story that can hold my interest and take me on an amazing journey.
Kaidan: Hockey romance book? Sounds...interesting. Is that the sort of thing you like, then? Romance rubbish--er, stuff? How good can book snogging really be?
Tara: Mmm yes. Can you say snogging again? Your Britishness makes me flutter.
I love me some hockey! And it helps when there is some smexy hockey player is getting it on with his lady.
And trust me, book snogging can be something quite tantalizing when done right.
See (brings out a book) I'll read you one of my favs:
"I clasped his cheeks. They were warm, like always--a touch of sunlight. His skin was smooth and hummed under my hands. I leaned in, and he didn't move...or breathe. Like, at all. Knowing that I could do that to him filled me with a heady rush of power.
Closing my eyes, I brushed my lips over his.
I kissed him softly, sliding my hands into his silky locks, letting the pieces slid through my fingers. I tasted in him my own rising desire, my own need and heartaches. Thrilling.
Frightening. I pulled back.
"Kitten," he said again, voice strained. "You don't get to do that and then stop. That's not how it works." I stared at him, my breath stalling in my lungs.
"Not when you're mine." Daemon backed us up and slid down the wall , pulling me onto his lap so I was straddling him.
I placed my hands on his shoulders as he brought my mouth to his. This kiss was lazy, exploratory...and sensual. For once, I wasn't fighting the depth of my response. I welcomed it, thrived in the warmth ripping through me. I deepened the kiss. He made a sound in the back of his throat, and his arms wrapped around me, pinning me to him."
Now tell me, Mr. Brit, did that not excite you in the slightest way?
Kaidan: (with a raised eyebrow) I think this Daemon bloke and I could get along. And in all seriousness I did learn a little something during training about how lust can infiltrate everywhere, even literature, but I just hadn't, er, read any myself. I feel a bit more worldly now that you've taken my book-snogging innocence, Tara.
And since we're on the subject, what exactly do you look for in a boy when you're reading? And in real life? *scoots closer*
Tara: Mmm I would love to be in the same room with the two of you.
And my luv, Kai, I can introduce you to more than book snogging. What I just read is a bit...tame compared to what I have read recently. Maybe your father needs to branch out and look into more "book-snogging" books ;) I hear it's taking off quite well.
Now, sweetness, shouldn't you already know what I like in a boy?
But since you are so close, did I tell you that you smell nice? Anyways, I'm getting distracted. Back to boys—in books, lately I have been into the bad boys. I don't know when I changed from liking the charming, good boy to the bad boy, but I like the bit of danger and passion that they hold. And you know that there is more to them under all the hard charm they show to the world. For example, I am very much in love with Daemon, Travis Maddox (Beautiful Disaster), Kraven (Dark Kiss) and of course you my love. Some snark, confidence and enjoyment in making girls swoon all over is a turn on. It also helps when it's wrapped in a tall, dark and incredibly sexy package. Dark hair, smoldering eyes and washboard abs will do me in.
Now in the real world, I love a guy who can make me laugh, can make me feel sexy when I feel like shit, and someone who can surprise me. I also don't mind a bit of danger and excitement from my man.
Kaidan: So, you only like bad boys under the safety net of fiction? I see how it is. *winks* Don't worry, I'm taking the mick with you.
Tara: Well, Kai, I would love the chance to explore and fun with the bad boys, but my man wouldn't be too happy if I did!
And I'm sorry my british is a bit rusty, what is taking the mick?
Kaidan: Right. Taking the mick...it's like...joking around, I guess you'd say.
Alright then, next question. What do you do when you're not reading and - what was the word again? - ah, swooning over fictional abs?
Tara: In my spare time when I am not reading, I spend a lot of time with my dog who can be a handful sometimes. I also enjoy going to the movies, just saw The Dark Knight, which was an ok movie. Also saw Ted recently, which made me pee my pants it was so funny! I also love to spend time with my friends and go to the beach, but the traffic is always so bad to the beach its not worth going. I also enjoy going to theme parks, like Disneyland and such. I always love a good thrill ride! ;)
Kaidan: A good thrill ride, eh? I could go for that, too. (Of course I'm referring to theme parks, as well. Mostly.)
Okay, now don't be too sad, luv, but this is our last question. If you could be the daughter of any of the 12 Dukes of Evil, which would it be? (Wrath, Sloth/Gluttony, Lust, Hatred, Murder, Lies, Envy, Substance Abuse, Adultery, Theft, Greed, or Pride)
Tara: Awwww, excuse me as my heart breaks a bit hon, this interview has been the highlight of my week.
And what a question to ask. This one is so hard because I have never though of myself as a bad influence. I would have to say Lust, and that's not just to get closer to you! If I had to, I would rather give someone a moment of pleasure and a brief moment of happiness than anything else. Although in the end, they are destroyed, they got to go out happy. As that famous saying goes, it's better to have loved and lost than to never have loved at all. Lust and love are often confused as the same, but I think it is better to make someone think they are in love than make them think they are an arrogant pridefull bigget. Or a raging pissed off jackass.
Tara: Awkward? Very much so!
Kaidan: Let's do one of those Lightening Round bits...
Blond or Brown hair?
Brown
Brown or Blue eyes?
Oooo I love a good blue, and even a nice hazel and green!
River, Beach, or Lake?
Beach all the way. Nothing like rolling around in the sand and splashing in the salty waves...with a someone special ;)
Dark or Milk Chocolate?
Milk, nice creamy and smooth ;)
Soft or Hard (firmness of your teddy bear, of course)?
Are you offering to be my teddy bear? Cuz I'll take you up on that offer. I love a nice soft bed to roll around in ;)
Big or Small (type of car you drive, of course)?
My my my Kai, you sure are a naughty fella! I drive a small car, although I am meant to drive a larger one.
Kaidan: *laughs* Apparently I'm not the only naughty one. But aren't you proud of me for keeping it mostly clean? Because I'm quite proud of myself. It's not easy, you know. Especially sitting in such close proximity and listening to you read "swoony bits of snogging." It's been a pleasure learning a few of your...preferences. Thanks for the interview. Best of luck with your blog and sexy books.
Tara: Trust me love, the pleasure really has been all mine. I have really enjoyed our little chat and would love a chance to do it again, any time you wish! Maybe we can turn the tables around and I could grill you ;) and I am very proud you kept it clean, although I must say, maybe next time we can turn up the heat a bit ;)
And anytime you want to listen to me read "swoony bits of snogging" I will be at your service... day or night ;)
*Gets up and plants a nice kiss on Kai's lips* Mmmm just as I expected, you taste like my favorite pie, key lime...
Tehehee that is all I can saw this really just makes me giggle!!! It was an incredibly stimulating experience and I hope every enjoyed that!!!
This blog tour also has me showing you what I think of Sweet Evil!!! I posted my review recently and I hope you all enjoy it!!! So head over HERE and check it out!!! I hope I did the book justice because
honestly
, I don't feel like I did. It's hard to put your feelings into words with an amazing book like this one!
AND I also get to host a giveaway!!!!
Up for grabs are some amazing bookmarks!!! Also just so ya know, Wendy really dose spoil her winners!!! I will be choosing three (3) winners!!! So enter below and I hope you all have enjoyed my stop here on the Sweet Evil blog tour!!!
Rules
Open International
Ends September 9, 2012
Must be 13 years or older
Must fill out form below
3 winners will be chosen
a Rafflecopter giveaway