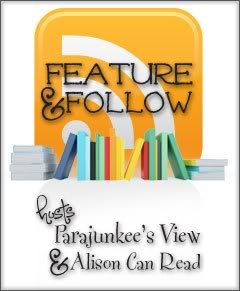 Follow Friday is a blog hop hosted by two great blogs, Alison of
Alison Can Read
and Rachel of
Parajunkee
. Each host will have their own feature blog, but anybody can post!
Leave your name on the post.

Create a post on your own blog that links back to the post (just grab the FF button) visit as many blogs as you can and tell them hello! In their comments.

Be sure to follow them and if someone follows you follow back!!!
Ok so it had been a while since I have done a Follow Friday, and I kind of miss it. been stalking to topics lately to see if there is anything worth actually typing up a post about and this week is it!!!!
This week's topic is: What hyped up book do you think was not worth all the talk?
So I'm going to talk about a couple books right now.
First book is Divergent by Veronica Roth. For me I just didn't connect with this book. I know a lot of people loved this book and its big talk all around, but for me its just, eh. I liked the world building and concept but the characters were just annoying and the romance wasn't believable. It just wasn't for me. now maybe I didn't read it during the time it was super popular and such, I just read it this year, but shouldn't a good book be amazing at any time?
Pretty much sums up my feelings of Divergent
And my next book… I have so many mixed feelings about this book. When I first read The Fifty Shades Of Grey series by E.L. James, I enjoyed it a lot. It came at a time where I was needed those explicit parts in a book and I never knew books like this were out there. and for me that made me over look all the other problems people see (bad line, bad writing, just eh) but now, I'm just fricking over this book!!! Seriously! I'm sick and tired of all my other favorite reads being compared to fifty when they are nothing like it (although it does make me happy that this is paving the way for some great books to get picked up and that makes me beyond happy) but just because the book has a sex scene in it doesn't mean its like the damn fifty books. I'm over the hype, I'm over the books and I want to see what else E.L. James can do, like an original novel for example.
So those are my picks and I would LOVE to discuss anything with you guys!! Just hit me up on the twitter!! It's feeling like a kind of twitter day!