Hidey ho to all the fellow Sweet Evilians (yea I made up a new word, deal and love it!) I am here today on the first week of the
Sweet Evil Read-A-Long
hosted by the wonderful Mindy from
Magical Urban Fantasy Reads
.
Everyone by now should know how much I LOVE this book!!! Honestly it's the best debut of the year (and in my top 3 reads of the year!)
Today our topic of discussion for today is Road Trips!!!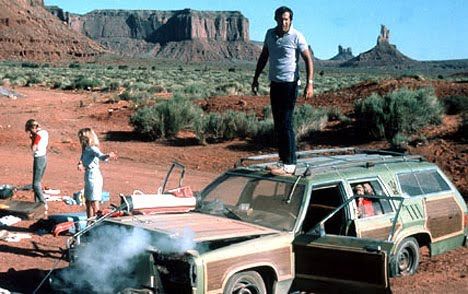 The first part of this book is all about Anna discovering the ohmysweet-babiesIwanttodonaughtythingstoyourbodyparts Kaidan Rowe and getting to know all the wonderful characters in this AMAZING book!!! And it is setting up to the oh holy hot hell road trip where Kaidan and Anna are in a car traveling across this wonderful country! I just love this book to pieces!! How
everything
gets set up in the
beginning
of this book is amazing! I LOVE Wendy and mmmm Kaidan, HI BABY!
I am here today to channel Gluttony for our Road Trip post.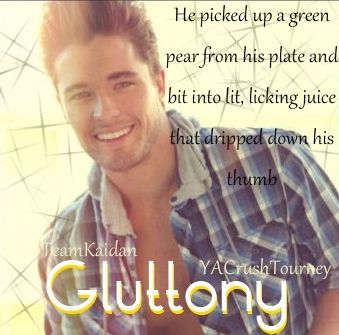 What I am going to do for this weeks post is my Top 5 Diner Drive In & Dives I want to go to with Kaidan. I LOVE that show and honestly I don't know why I haven't gone and visited some of these places yet (seriously, I drive by one of them almost EVERYDAY!) I could go on and on about how I want to go to all of these places and I think one day I will do a Triple D road trip and visit a vast majority of these places!!! For the purpose of containing my crazy rambling brain, I am going to talk about the top 5 places I want to go in California (cuz honestly there are so many I want to go to across this vast country we would be here all night with me taking about it!!) *small note, these aren't in any ranking order*
So Kaidan baby, lets get going!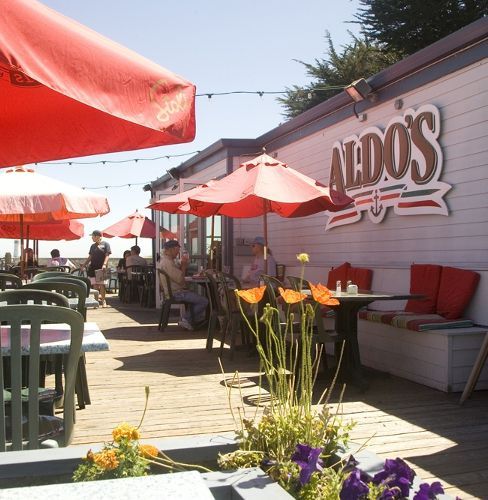 So confession here, I grew up eating their sourdough bread and will forever eat it because its so yummie!!!! I'm not a big seafood person (having a shellfish allergy kinda sucks) however, I will go one day and have myself a delicious clam chowder bread bowl *Drools* and some calamari!!! OH YES!!!!! Seriously!!! I mean get to a place on the beach. I love SC!!!

Now I have recently discovered a love for middle eastern/Greek food and this place I MUST go to!!!!! Shit I need to go here like now! This is the one that is no joke, down the street from me! I have been living by this place and drove by it hundreds of times for the past 5 years and never stopped! I don't know what is wrong with me!!! And it's so fun to say Falafel!!! Now I'm not a fan of beans (yea I know, how the hell will I eat a Falafel??) Well they have something called a Kifta Kabab which just makes me drool!!! Also a good ol' fashioned gyro!! And I am also told I need to have the Banana shake!! Geez, I think I need to rethink what I'm having for dinner!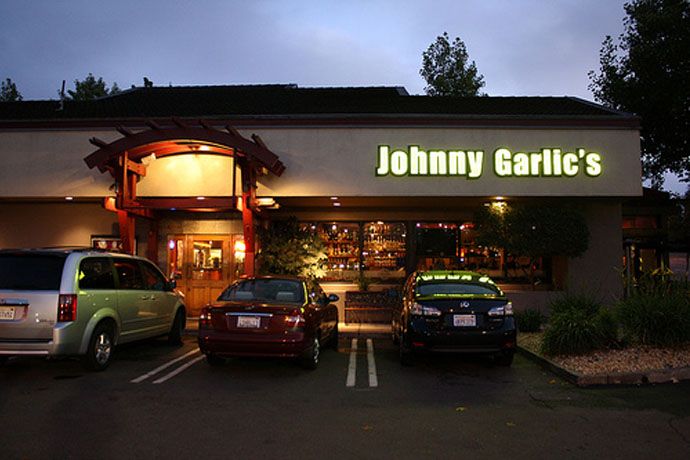 So this is indeed Guy's own restaurant and I am lucky enough to live near his hometown and would totally love to go to the original location place!!! And I also need to hit up the one in San Jose!!! Anything that has garlic in the name is a place for me to frequent!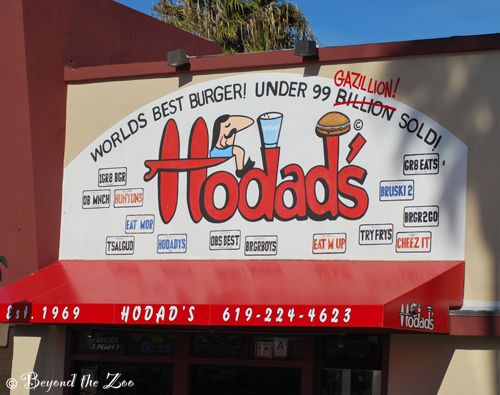 Ok seriously!!! That is my kind of place!!! I'm again drooling all over the place! You can take the surfer out of Santa Cruz but you can't take the Santa Cruz out of the surfer!!! I for one will always be a beach bum and have a totally laid back attitue! I grew up in a surfer town, on the beach and I love the whole atmosphere of beach life. Now this place is not in Santa Cruz, but Santa Cruz's cousin, San Diego, and it is a must for me to go to!! I just have to!!! And I'm sorry but I noticed that pretty much all the places I picked are burger joints! Cant help it, I'm a simple girl that just loves a good burger and fry.
THEIR BURGERS WEAR SKIRTS!!!!!! Seriously!!! How can you not want to go to a place where the burgers dress up?!?!?!? Seriously though, aside from the fact that the burgers get all dressed up at this place, I am a certified Cheese-A-Holic and anyone else that just loves melted gooie crunch cheese, hit me up and we can go check this place out!!!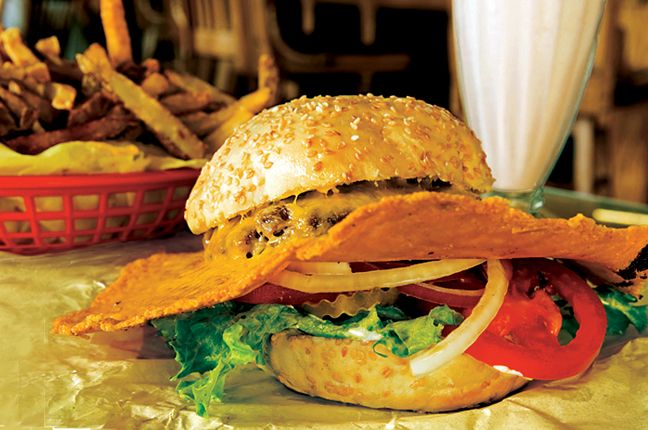 Look at that puppy!! The Squeeze with Cheese!
Are there any places you would want to make a road trip and go on to visit?? I have to say when I was tolling the food network website to get all the info I also decided that I want to do a The Best Thing I Ever Ate road trip!! Damn some of those places, mmmmmmm yum!!!Please tell me, where would you go! Is there a place you would nominate??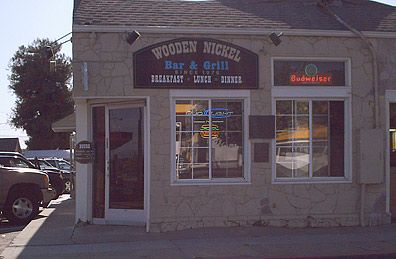 This is an amazing little hole in the wall with the friggin best skirt steak sandwiches around!! And also a damn good calamari one too!!! I mean I love this place and don't get to go enough!!! So if you are ever in the Freedom/Watsonville, CA area, be sure to check it out!!!
So this concludes my post for week 1 about road tripping! I hope everyone does read the first 121 pages of this book because it is amazing!! I will leave you now with my favorite quotes from that section!! And please hit me up on the twitter to talk about anything form this, from food to Kaidan to bacon, mmmmmm bacon! Ok I'll see you all next week when I give you my best pear/citrus recipes and ooooo the best parts of the book are coming!!! OOO and I would also love to discuss any parts of the book you need to swoon/gush/rant over!!
Check out the AWESOME giveaway for this week!
a Rafflecopter giveaway
Wowza.
He was smokin' hot.
As in H-O-T-T hot. I'd never understood until that moment why girls insisted on adding an extra t. This guy was extra-t worthy. ~10
"The guy, the drummer? Get this. He's a killer musician, he gets tons of chicks, his dad's loaded, and as if that wasn't enough, he's got a friggin' English accent!"
I had to smile at Jay's mix of envy and admiration.
"What's his name?" I hollered as the third song started.
"Kaidan Rowe. Oh, and that's another thing. A cool name! Bastard." ~ p 15
When I looked back up, there he was, standing right in front of me. Good gracious, he was sexy—a word that had not existed in my personal vocabulary until that moment. This guy was sexy list it was his job or something. ~p 21
"He's not the boy next door, if that's what you mean. Just don't get the good-girl syndrome."
"What's that?"
"You know. When a good girl falls for a bad boy and hopes the boy will fall in love and magically want to change his ways. But the only one who ends up changing is the girl. Like Jamie Moore, remember?" ~ 32
I wished I could have talked with him longer. I wondered how I could get a hold of him.
I supposed I could attach my phone numbers to a pair of my undies and throw them onstage at his next show. The thought actually made me laugh out loud. He'd probably take one look at the one-hundred-percent whit cotton panties and chuck them in the trash. ~72
He had headphones on. The straight lines of his face were stern with concentration as his arms flexed underneath the bright red T-shirt with each jarring crash of the drumsticks. The beat he created was impeccable. I was amazed by his ability to think just far enough ahead of the sounds in order to place each stick at the exact right place at the right time, all while moving his legs up and down on the pedal in synchronization it all happened too fast for my eyes to keep up. I wanted to … to envelop him, wrap him up. Make him mine. It was a frightful, shameful desire. ~ 94
Kaidan carefully sat down next to me on the tattered old couch. I remembered him splayed out on the fancy sofa at his house with his boots up, and I found it ironic that he would show our dingy thing more respect. ~ 114