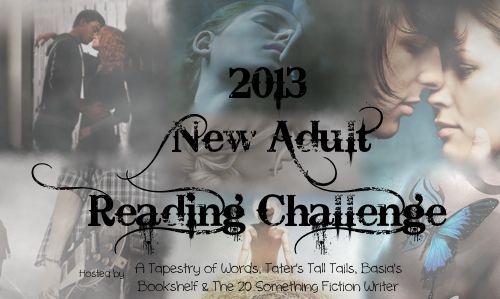 So it should be no shock by now, if you follow me on Twitter or Goodreads that I am totally in love with the genere New Adult. I mean really, I AM the new adult they are talking about so it's really fun to read books about people my own age and going through the same things I do. I mean don't get me wrong, I sooooooo love YA lit but, its been almost 10 years since I have been in high school and sometimes it's just harder to relate to the characters!
ANYWAYS! Enough of my ranting, I am here with some very awesome news. I, along with Danya at
A Tapestry of Words
, Victoria at
Confessions of a Twenty Something Fiction Writer
and Barbara at
Basia's Bookshelf
are hosting the 2013 New Adult Reading Challenge!!! I'm so excited that Danya is letting all of us help because I think with all the explosion of NA lit out there that this reading challenge is going to be epic!!!
Sooo here is everything that you need to know:
1. I, Tara am awesome and LOVE NA LIT!!!
2. Dayna, Victoria, and Barbara are awesome and you all should check out their blogs!
3. Now I'm going to tell you about the challenge:
The Deets:
Challenge Objective: Read more books about "New Adult" novels! Books with protagonists in their late teens or early twenties (18-30 or even some mature YA books), post-graduation, fending for themselves in the adult world they have been pushed into.
Runs From: Jan 1, 2013 - Dec 31, 2013.
Books that count:
The book must feature a protagonist who is past the average age for graduation from high school (18 in most places) and all the way up to age 30.

If they're sitting on the fence at precisely age 18, then you can make the judgment call on whether it is more YA or New Adult. (If the majority of it is set in high school, I'd classify it as YA.)

The protag should be 30 or younger, just to give a maximum limit as well (otherwise we're getting into Not-So-New Adult literature!)

They don't have to be contemporaries! Fantasy, dystopian and paranormal fans rejoice, your books count too. As long as the characters fall into the comparative age group on whatever planet or in whatever world, it works

You don't have to have a blog to participate, but you must post your reviews somewhere accessible online (like Goodreads)
Crossover Challenge? YES
Levels
Just Graduated: Read a minimum of 5 New Adult books
Moving Out: Read a minimum of 10 New Adult books
Living On Your Own: Read a minimum of 20 New Adult books
Fully Independent: Read a minimum of 30 New Adult books
Extras to help:
Goodreads Very Own NA Genera Page
,
New Adult/Post HS Books
,
New Adult Literature
,
New Adult Contemporary
,
New Adult of 2012
(includes some good paranormal and fantasy),
New Adult Dark & Gritty
,
Speculative New Adult Fiction
,
New Adult Fantasy Series'
,
College Romance
And the best resource of them all,
NA Alley
Keep up to date and connect with other NA LIt lovers in our Reading Challenge Group (it's currenlty set up for 2012 but we are working on changing that soon!)
Goodreads New Adult Reading Challenge Group
Please use this sign up below (it is the same on all of our pages) and spread the word!! And also please enjoy some of these lovely buttons and banners!!!