Spies and Prejudice
by Talia Vance
Fields' Rule #1: Don't fall for the enemy.
Berry Fields is not looking for a boyfriend. She's busy trailing cheaters and liars in her job as a private investigator, collecting evidence of the affairs she's sure all men commit. And thanks to a pepper spray incident during an eighth grade game of spin the bottle, the guys at her school are not exactly lining up to date her, either.
So when arrogant—and gorgeous—Tanner Halston rolls into town and calls her "nothing amazing," it's no loss for Berry. She'll forget him in no time. She's more concerned with the questions surfacing about her mother's death.
But why does Tanner seem to pop up everywhere in her investigation, always getting in her way? Is he trying to stop her from discovering the truth, or protecting her from an unknown threat? And why can't Berry remember to hate him when he looks into her eyes?
With a playful nod to Jane Austen, Spies and Prejudice will captivate readers as love and espionage collide.
It's so fun for me to get to share some of my favorite quotes from SPIES AND PREJUDICE.
Tanner's voice is low and warm next to my ear. "You know I can hear you, right? I'm standing right here."

I clutch the latte to my chest, creating a makeshift shield. "So you are. What's the matter? Yogurt not your thing?"

"Something like that." He starts to smile. "You think I'm hot?"



"You think you're hot. There's a difference." I spin away, heading in the opposite direction even though it's nowhere remotely near my first class. At least I don't have to see his smile.
One of the things I love about this snippet, is that as much as Berry pushes Tanner away, it has less to do with him and more to do with her need to run far away her unwanted attraction to him.
Collin glances at my sweater, making me glad all over again for the extra layer of armor. "You want to play some video games until dinner's ready?"



"No." The last thing I want is to go anywhere unsupervised with Collin Waterson. I might really hurt him.
I love Berry's fearlessness, her confidence that she can handle Collin or anything else that comes her way.
I have a new understanding of the women who hire my dad, women whose relationships are already so damaged that they're willing to pay money for the proof of it. I won't believe that she left me until I see something concrete, but I can't trust her either. Will I be surprised when I'm finally confronted with the truth? The ones who cling to false hope always are.
Berry has a unique understanding of what it will mean if she goes forward with her investigation into her mother's death. Doing so will require to admit that she has doubts, and there is not going back from that.
I thought I wanted the truth. I thought I needed to hear it. The truth is, I need the lies more.
When confronted with information about her mother's death, she realizes too late that that maybe it would be better not to know.
Jason greets me at the door. He's wearing a pair of black pants that taper at the ankles and a red satin shirt that looks vintage.




"What, no tux?"




"Not that you can see."




"Invisible tux? Wow. So elite no one even knows it exists."




Jason laughs. "Wrong. It's a tuxSpeedo."




"Please tell me you are not planning to parade around in a tiny bathing suit with a bow tie."




"Buzzkill."
Jason was one of my favorite characters to write. He always cracked me up.
I wait until he disappears inside before I allow myself to close my eyes. I try to memorize the angles of his face and how they soften when he smiles. How he looked when I thought he might kiss me. I cling to the memories while I still have them. I know too well how good-bye can steal more than just the future.
I love this moment, because now that Tanner is gone, Berry can finally be honest with herself about how she feels about him. She understands that she's losing something important.
Lulu stands on the other side of the door as I enter from the garage, her tail thumping against the wall. I push the door against her massive body and wedge sideways, sucking in my breath. It's a good thing I passed on the fries today, since the door only opens about six inches. Lulu licks my arm as I press my way inside, leaving a trail of slobber along the sleeve of my jacket.
This quote is special to me because within a day of writing it, after researching the breed on the internet, I went out and got my own Saint Bernard, Huckleberry.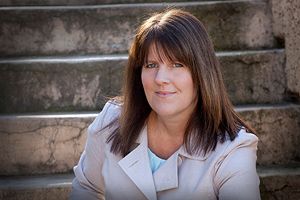 About Talia
Talia Vance is a practicing litigation attorney living in Northern California with her real life love interest, two-point-five kids, and a needy Saint Bernard named Huckleberry. Talia has been writing since she could talk, making up stories for every doll, stuffed animal and action figure she could get her hands on. She grew up hoping to write the great American novel, but her life ran more along the lines of tortured romance and fast paced thrillers, so that's what she writes.
a Rafflecopter giveaway