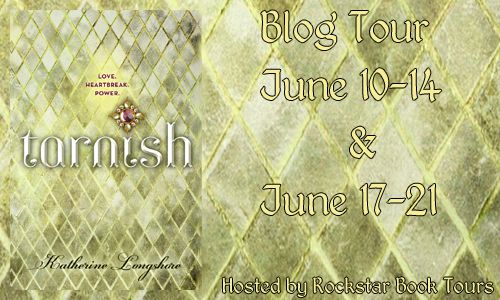 Tarnish
by Katherine Longshore
Anne Boleyn is the odd girl out. Newly arrived to the court of King Henry VIII, everything about her seems wrong, from her clothes to her manners to her witty but sharp tongue. So when the dashing poet Thomas Wyatt offers to coach her on how to shine at court—and to convince the whole court they're lovers—she accepts. Before long, Anne's popularity has soared, and even the charismatic and irresistible king takes notice. More than popularity, Anne wants a voice—but she also wants love. What began as a game becomes high stakes as Anne finds herself forced to make an impossible choice between her heart's desire and the chance to make history.
TARNISH playlist
I don't usually listen to music when I write. I find it distracting, listening to someone else's words while I'm trying to put my own together. But I do construct a playlist for (almost) every book I write. I listen to these at the gym, in the car, on walks, while washing dishes—engaged in activities that allow the creative side of my brain to float a little. It's often how I get my best ideas!
My playlist for TARNISH was partially constructed before I started to write. I knew what I wanted to do with the character and with the story, so I threw together a few songs to get me started. Other songs were added along the way, as characters changed or I heard one on the radio…
Just a Girl by No Doubt
This song captured Anne's attitude perfectly. The irony of lines like, "I'm just a girl, so don't let me have any rights," contrasted with the final line of the refrain, "I've had it up to here." Anne knows where her society places her, she knows how she's seen, but she doesn't necessarily accept it. And it makes her angry. She wants a voice, she wants to establish a place in the world. It's an anthem for a girl who is on the verge of breaking out of the box in which she's been placed.
Songs on the playlist for similar reasons:
Last of the American Girls and Warning by Green Day
Bitch by Meredith Brooks
Gives You Hell by The All-American Rejects
Where Are You Going by Dave Matthews Band
I love this song. It is so dreamy and thoughtful, like a late summer evening. It's a poet's song, so it helped to inform Thomas Wyatt's character. Historically, Wyatt continued to live at Court and went everywhere Henry and Anne went after they married. A consummate courtier. I think the melancholy in Matthews' voice matches Wyatt's.
Similar songs:
Longing to Belong by Eddie Vedder
One by One by Billy Bragg and Wilco
Miniature Disasters by KT Tunstall
"Don't want to be second best/Don't want to stand in line/Don't want to fall behind." The opening lines of this song fit Anne's ambition perfectly. But the lyrics then descend into a warning that Anne needs to heed—I have to be myself, be my own master. Or the "miniature disasters will be the death of me." Historically, it was a series of miniature disasters that put Anne on the scaffold.
Better Man by Pearl Jam
Damn, I loved the 90's. More than that, I loved Seattle and grunge music in the 90's. One of the greatest bands to come out of that decade was Pearl Jam. They could tear down a house with some of their heavier stuff, and I loved it. But their quieter, lyrical, story-oriented songs really gave them heart. This song is all about a girl who "dreams in color/she dreams in red", but stays with the guy she's with. Because she thinks she can't find a better man. How many girls have fallen into this trap? In TARNISH, this is the song that infused the relationship between Anne and Henry Percy, future Duke of Northumberland.
Please Please Please Let Me Get What I Want by The Smiths
Poor George Boleyn. This was his song. I've always felt that George got a bad reputation as his story was handed down through history. I wanted to write someone who could be bitter and manipulative and even hateful, but who had his reasons. This song helped me get my head around George's reasons for being who he was. Morrissey sings a pretty mopey song here, and I can imagine George listening to it in his room at night.
Two Princes by the Spin Doctors
This song is a total earworm, so forgive me for putting it in yours! About halfway through my first draft of TARNISH, I heard it again on the radio and it made me laugh. I could picture poor Thomas Wyatt lip syncing to it, trying to win Anne back from King Henry.
Sweet Thing by the Waterboys
This is one of my favorite songs of all time. Originally sung by Van Morrison, the Waterboys have taken a stunning, heartfelt love song and lifted it up to catch the light. It reminds me of a time in my own life when the love I felt for someone would just burst out of me. I had a crappy kitchen job at the time, and I remember listening to it on my headphones and dancing all the way to the dumpsters with the trash. It didn't matter where I was or how I smelled or who was watching. That's how I wanted Anne to feel when she realized she was in love.
Bonus songs:
I had finished TARNISH and it was going into copyedits when Mumford and Sons' second album, Babel, came out. I listened to it incessantly while I went through the book line by line, making minute changes in word choice, grammar, punctuation and history. The first song on the album (also titled Babel) is so powerful, with the driving guitar and Marcus Mumford's extraordinary voice. But the line that gets me—every single time—is this one: "I press my nose up to the glass around your heart." That image, of a man outside, looking in, the longing and even anguish on his face that he can't quite reach the object of his desire. It fit Thomas Wyatt's relationship with Anne Boleyn so well.
A couple of weeks after I turned in my final version of TARNISH, I heard Love Love Love by Of Monsters and Men. This is Anne's side of the story. "And these fingertips/Will never run through your skin/And those bright blue eyes/can only meet mine/across a room/filled with people that are less important than you." I had to pull the car over and cry, I so badly wanted things to be different for Anne.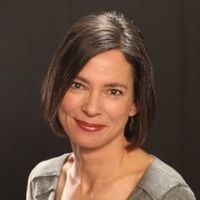 About Katherine:
Katherine Longshore grew up on the northern California coast. At university, she created her own major in Cross-Cultural Studies and Communications, planning to travel and write. Forever. Four years, six continents and countless pairs of shoes later, she went to England for two weeks, stayed five years and discovered history. She now lives in California with her husband, two children and a sun-worshiping dog.
a Rafflecopter giveaway